NUI Annual Awards Ceremony 12 November 2014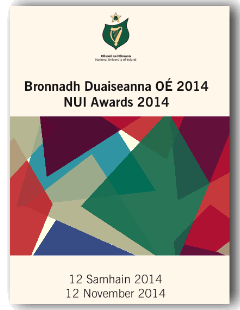 The annual NUI Awards Ceremony will take place on Wednesday, 12th November in the Royal Hospital Kilmainham.
This ceremony celebrates the academic achievements of students and graduates from the constituent universities and recognised colleges of the NUI who have participated in competitions organised by NUI.
We are in the process of notifying award winners and invitations will be issued shortly. Admission to the event is by invitation only.
Congratulations to all NUI Award winners !
Matriculation Regulations
Universities and Colleges

Member Institutions of the National University of Ireland
Garret FitzGerald Lecture