Are you a graduate from an NUI university or college?
Claim your Vote in elections to Seanad Éireann
All graduates with degrees from any of the NUI universities or colleges (see list here), and who are Irish citizens, have the right to vote in Seanad Éireann elections. However, you are not automatically registered to vote when you graduate.
To be placed on the 2021 NUI Seanad Éireann Register, graduates must complete a Seanad Éireann Registration Claim Form and send it to the National University of Ireland, 49 Merrion Square, D02 V583.
Alternatively, you can scan and email the completed form to records@nui.ie.
The closing date for application is the 26th of February 2021.
The form below may be used to register and should be completed in full and signed in one of the following ways:
printed, signed by hand, scanned and attached to an email and sent to records@nui.ie OR posted to Records Office, National University of Ireland, 49 Merrion Square, Dublin 2, D02 V583.
signed electronically in the editable PDF form. Click here for instructions. Please note that the e-signature instructions are for use with Adobe Reader.
Download Registration Claim / Graduate Update Form


Irish Version: English Version:
Please download the pdf to your computer (right click and save) and complete the form using Adobe Reader as not all internet browsers support on screen completion of pdf documents

(NOTE: Any change in address should be notified to National University of Ireland; otherwise the ballot paper may be lost, and your name removed from the Electoral Register).
NUI graduates from previous years who are unsure if they have already registered, or who wish to notify us of a change of address, can email records@nui.ie or call 01 4392424. 

How do I check if i am listed on the NUI Seanad Éireann register?
There is currently no provision in the Seanad Electoral (University Members) Acts, 1937-2015, for online registration or for checking the register online. If you wish to check that you are on the register you can contact NUI at records@nui.ie or (01) 439 24 24. To assist in identifying you on the register, please include the following information:
Full name at time of graduation/registration
Any other form of name used (e.g. Irish, single, married, etc.)
Date of birth
NUI degree(s) and other NUI qualification(s)
Year(s) of conferring(s) and NUI institution(s) where conferred
Previous address
Current address.
We will respond promptly to all enquiries.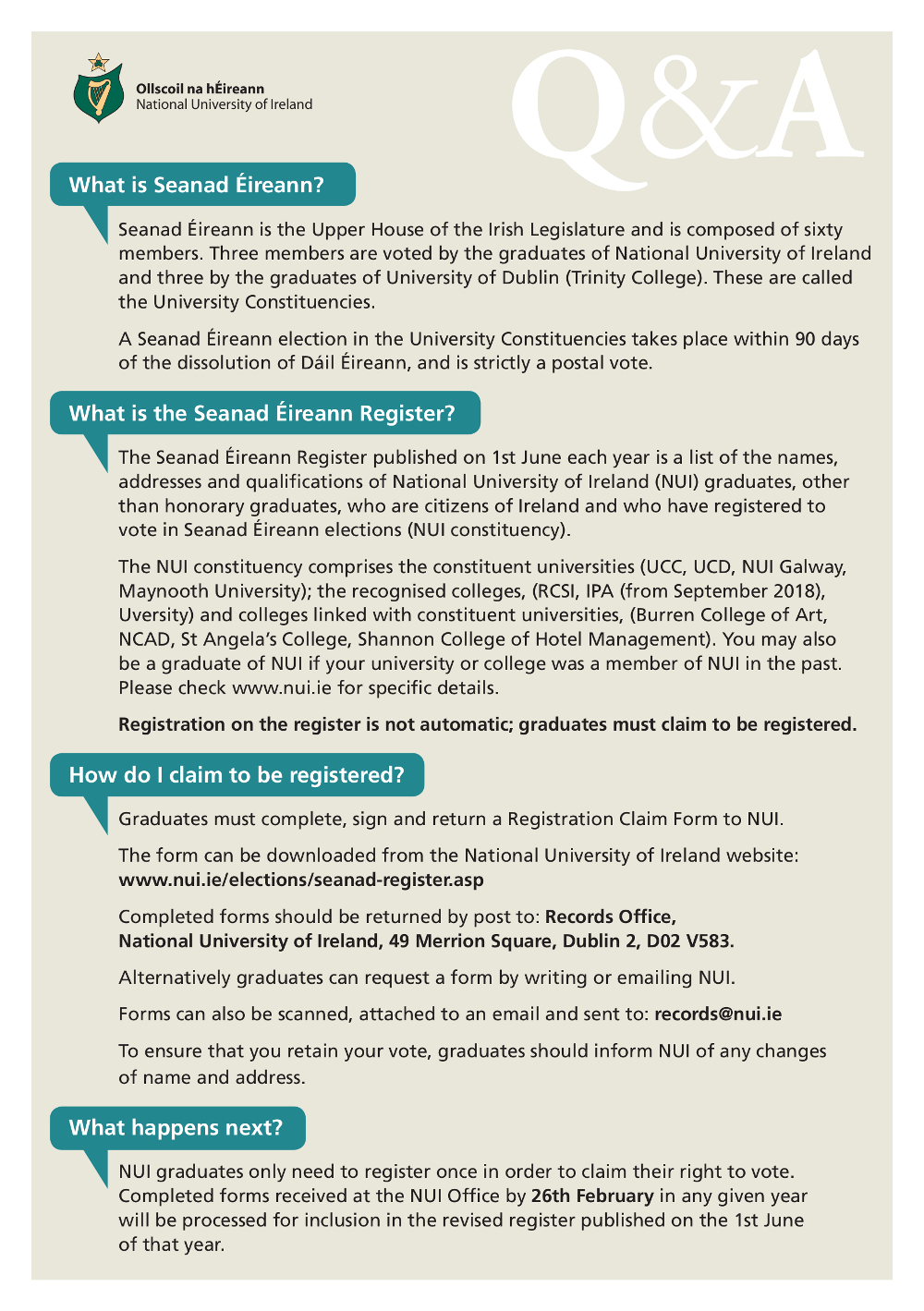 « Previous