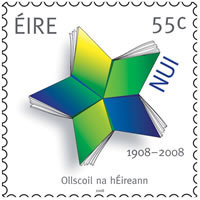 A high point in the NUI centenary celebrations is the issue by An Post of a special 55c commemorative stamp. The date of first issue is Friday 19th September 2008.
The image chosen for the centenary stamp is of a series of books representing knowledge and education. The books have been integrated into the NUI centenary logo, which features the star of knowledge (An Réult Eolais) taken from the NUI coat-of-arms.
The centenary stamp was designed by Catherine Pearson of the National College of Art and Design. Her design was the winning entry in a competition organised jointly by An Post and the National College of Art & Design (NCAD), which is a recognised college of the National University of Ireland.