NUI E J Phelan Fellowship in International Law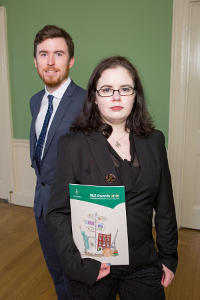 2016 recipients of the NUI E J Phelan Fellowship in International Law, Gene Carolan and Sandra Duffy.
This Fellowship, funded by a special bequest from the late Mr and Mrs Edward J Phelan was first awarded in 2002, and is normally offered in alternate years. The Fellowship is intended to encourage and support a doctoral candidate of proven academic excellence at an advanced stage of their studies towards a doctoral degree in any area of International Law, in a constituent university of NUI. It is expected that the research undertaken will result in a substantial contribution to knowledge worthy of publication.
The NUI E J Phelan Fellowship in International Law is valued at €25,000 and open to a doctoral student in any area of International Law in 2018 for a period of up to 18 months.
The NUI E J Phelan Fellowship competition has now closed for applications and will re-open in January 2020.
Please contact awards@nui.ie with any queries..
Download Application form & other relevant documentation

Application Form and Regulations: Confidential Reference Form: FAQs:
Please download the pdf to your computer (right click and save) and complete the form using Adobe Reader as not all internet browsers support on screen completion of pdf documents


Recent Recipients of NUI E J Phelan Fellowship in International Law

2016 recipients of the NUI E J Phelan Fellowship in International Law
Sandra Duffy is a graduate of University College Cork. Her Fellowship research focused on gender recognition frameworks in the context of international human rights law, including a comparative legal analysis of gender recognition in Ireland, India, and Malta - three jurisdictions whose recent progressive legal development shows the importance and potential of the field. She undertook her Fellowship at University College Cork and NUI Galway.
Gene Carolan is a graduate of Maynooth University and his Fellowship looked at peace agreements, their status and their operation under contemporary concepts of international law. His thesis analysed three countries that have experienced protracted conflict with a view to understanding how legal mechanisms can support (or undermine) tried and tested methods of peacebuilding. He completed the Fellowship at Maynooth University.


Other NUI Research Scholarships not on offer in 2018 include:


NUI Dr Mary L Thornton Scholarship in Education
This is an NUI Scholarship in Education, funded by a bequest from the late Dr Mary L Thornton. Open to NUI graduates, the Scholarship is intended to encourage postgraduate research within NUI in the field of education. NUI would wish, through the Scholarship, to encourage research related to Irish higher education and accordingly, preference will be given to applications in this area. However, applications will be accepted in relation to projects in any area of educational research.