The National University of Ireland 1908 – 2008 Centenary Essays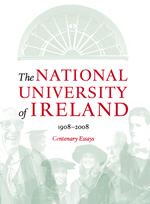 This beautifully illustrated book, edited by Tom Dunne, celebrates the centenary of the National University of Ireland and traces the origins and formative influences of it since its foundation in 1908; especially the role of the Irish language movement and the campaign to include women; the relationship between the NUI and its Constituent Colleges (now Constituent Universities); and the contribution of the four Chancellors that have presided over its affairs. Other contributions include the evolving roles of the Senate and the Registrar, the position of the Recognised Colleges within NUI and the Convocation. In addition, the challenges posed by the transformation of Irish education since 1967 and the establishment of the 1997 Universities Act are analysed. The valuable NUI Archive is also listed and a series of Appendices provide details of office-holders, members of Senate, and of NUI Awards and Scholarships.
Published by UCD Press 2008 - Price €30 excluding post and packaging
A Century of Scholarship: Travelling Students of the National University of Ireland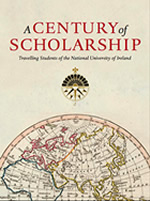 Since the first NUI Travelling Studentship was awarded in 1910, over 700 graduates have been recipients of either a Travelling Studentship or a Prize, or sometimes both. This book, one of two special centenary publications, provides comprehensive historical information – full listings of the recipients, the subjects in which they were awarded the Studentship/Prize and the years of the awards. Wide-ranging efforts to contact as many of the recipients as possible have resulted in approximately 200 responses. Collectively, they constitute a remarkable testament to the importance of the Travelling Studentship Scheme and to the achievements of recipients over ten decades.
Published by NUI Press 2008 - Price €30 excluding post and packaging