29.10.2010


While a small number of medical degrees were conferred in May of that year, the first major conferring of degrees and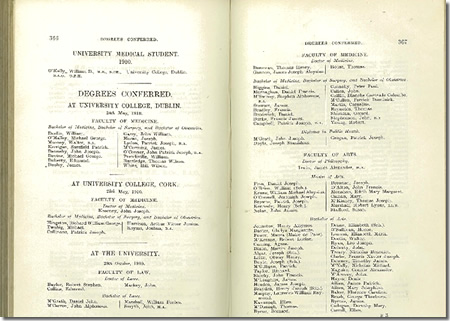 diplomas of the National University of Ireland took place on Saturday 29th October 1910 at 3.00 pm in the University building in Earlsfort Terrace. One hundred and forty–nine students graduated at the ceremony, having completed their studies at the constituent colleges of the University, University College Dublin, University College Cork and University College Galway. Some had studied at St Patrick's College, Maynooth, a Recognised College of the University. In addition, some of the graduates had studied privately or at schools or colleges whose students were permitted to enter for the examinations of the University. These colleges included Alexandra College, Dublin; Dominican College, Eccles Street;  Loreto College, St Stephen's Greeen, Dublin; Mungret College, Limerick .
 
Thirty-eight women were among the graduates. Most of those conferred graduated with a Bachelor of Arts degree – one hundred and seven graduates (of whom thirty-four were women). Fourteen were conferred with Master of Arts degrees (eleven men, three women). Seventeen graduated in medicine (one woman Blanche Gertrude Colomba Griffin of University College Dublin becoming NUI's first medical graduate).
 
Among the 1910 graduates were Thomas McDonagh who graduated with a BA in Modern Literature and Edward de Valera, BA who qualified for a Diploma in Teaching.