20.10.2023
Honorary Conferring of Seóirse Bodley at the National University of Ireland, 19 October 2023

The National University of Ireland honorary degree conferring ceremony took place on Thursday 19 October 2023, in the NUI office at 49 Merrion Square, Dublin 2.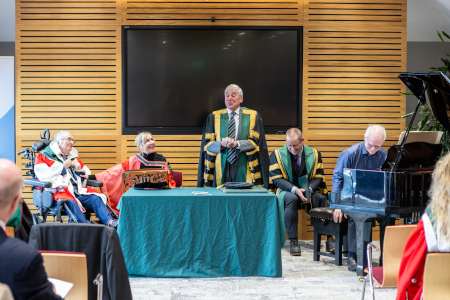 At the ceremony, the Chancellor of the University, Dr Maurice Manning, conferred an honorary degree of Doctor of Literature on Seóirse Bodley for his contribution to Irish culture.

Seóirse Bodley is Ireland's oldest living composer. 'Born between the two canals' in Dublin on 4 April 1933, Bodley has enjoyed a long compositional career of over 70 years
and been the recipient of numerous highly distinguished commissions in Ireland. He has made an enormous contribution to Irish musical life as Professor of Composition in UCD (1959–2004), an accompanist, soloist
and conductor, broadcaster, adjudicator and collector of Irish folksong. He was founding member of Aosdána, Ireland's Academy of Artists and is the first composer to be made a Saoi of Aosdána. In addition to numerous performances in Ireland, his music has been broadcast and performed in most European countries, North America, China, Japan and Australia.

He has also written Sacred Music, music for numerous film and TV documentaries including James Joyce: Is there one who understands me (1981) and W.B. Yeats - Cast a Cold Eye. His most widely heard work for television is his orchestral arrangement of 'The Palatine's Daughter' which was the signature tune of RTÉ drama series, The Riordans.

Dr Manning remarked that "NUI is delighted to honour Seóirse Bodley with this degree. Honorary Degrees hold a unique standing in Irish society and are bestowed upon remarkable individuals with exceptional achievements and a far-reaching impact and legacy. Seóirse Bodley's commitment to preserving and advancing Irish musical traditions has enriched the country's cultural heritage".

Seóirse Bodley's notable commissions include his Choral Symphony no. 3 Ceol (1980) which opened the National Concert Hall in 1980 and the performance of his Mass of Peace in the Phoenix Park at the Visit of Pope John II to Ireland in 1976. Distinguished commissions abroad include a Missa Brevis for Westminster Cathedral in 2009 and his fourth symphony commissioned by the Arturo Toscanini Symphony Orchestra of Parma, Italy.

A performance of Bodley's Music for Strings composed at the age of 19 and premiered on 10 December 1952 in the Metropolitan Hall by the Dublin Orchestral Players conducted by Brian Boydell (TCD) launched him as a composer. His most recent premiere of Reservoir Voices (2018) was written and performed on his 85th birthday. Bodley has been described as a chameleon composer because of his eclecticism and range of musical styles from the European avant-garde to Irish traditional music, through all of which can be heard his own distinctive voice. In the 1960s he was recognised as 'the principal exponent of post-serial compositional procedures' (Gareth Cox, Seóirse Bodley, Field Day Press in 2010) The 1970s were characterized by a highly imaginative dialogue between the idioms of Irish traditional music and the European avant-garde.

A fourth phase in the 80s and 90s embraced Irish and European influences, numerous distinguished public commissions and his final phase from the Millennium has been recognized as a period of remarkable energy and intensity of expression heralded by a seven-movement piano work An Exchange of Letters (2002) and his Piano Trio (2014).
Seóirse Bodley Citation Download

Citation Seóirse Bodley (184 kb)

To download this pdf to your computer right click the link above and save
For further information, please contact Cora Lenihan at clenihan@nui.ie or (01) 439 24 24.
Tweet
« Previous