17.12.2021
NUI honours retired Dublin Zoo Director
On 23 November 2021, at 6.30pm, NUI Chancellor Dr Maurice Manning conferred the honorary degree of Doctor of Science (DSc) on Leo Oosterweghel in recognition of his outstanding contribution to the development of Dublin Zoo. In a first for both NUI and the Zoo, an honorary conferring ceremony took place at Dublin Zoo.
The platform party processed from the Discovery and Learning Centre (added during Mr Oosterweghel's tenure) to the historical Haughton House, among excited children and families enjoying an evening of Wild Lights.
In a career spanning many decades, Leo Oosterweghel has developed a deep understanding of animal habitats, a strong animal welfare ethics and a conservationist mindset. He spent the last nineteen years of his career in Dublin Zoo, transforming it from a struggling tourist attraction to an animal-centred space for learning and research as well as an attraction for families, both local and international. Dublin Zoo is now the most visited attraction in Ireland (with 1.3m visitors annually); it also hosts 65,000 school children annually for educational programmes and has a number of partnerships with university and conservation groups.
'An interview with Leo discussing his time at Dublin Zoo –
with some guest appearances by his old neighbours from the Zoo'
Ann Keenan, President of the Zoological Society of Ireland, said Dublin Zoo 'struck gold in 2001' when they appointed Leo as Director. She noted that 'Leo is passionate about animals, animal welfare, about the conservation of endangered species and he has had the vision that Dublin Zoo should constantly communicate the urgent message on biodiversity, conservation of the species and awareness of our environment'. Ms Keenan said Leo was 'the vision, the driving force and the momentum that fostered the talent and resources that have transformed Dublin Zoo…into a leading world zoo'.
In his introduction, Professor Alan Baird (University College Dublin) stated that 'Leo Oosterweghel stands out as being a truly exceptional individual'. Using the parable of three blind men and an elephant, Professor Baird highlighted Leo Oosterweghel's rich and wholistic understanding of the zoo. He noted that we in Ireland had owed Leo our gratitude for imbuing Dublin Zoo with his considered and wholistic understanding of what a zoo can and should be.
The Chancellor said that in the process of nominating Leo for an honorary degree 'the case was made that Leo is a person of such extraordinary distinction with such a marvellous contribution that the NUI was in a position to confer the highest academic honours on him'.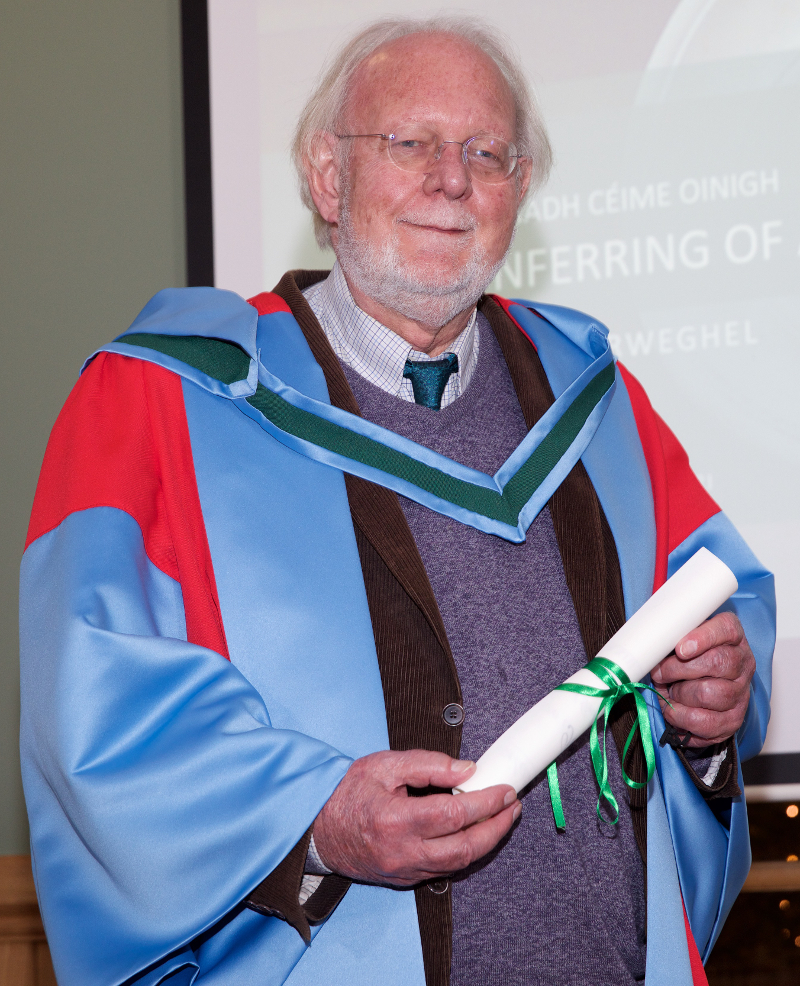 Leo Oosterweghel
Leo Oosterweghel retired from the position of Director of Dublin Zoo in August 2020, a position he held for 19 years. During this time Dublin Zoo was transformed into a rich visitor experience with animal habitats inspired by nature, a strong animal wellness focus, and a clear compassionate conservation message that permeates all of the Zoo's activities.
Leo was born the Netherlands in 1950 and grew up during a period of rapid post-war urban regeneration. Despite living in an area almost devoid of nature, Leo developed an insatiable curiosity about wildlife and the environment at a very young age. He nurtured this passion by working variously in a private zoo, a Dutch natural history museum, and then by travelling extensively over many decades to observe animals in their natural environments. Later, Leo used this invaluable first-hand observation of wild habitats as inspiration for designing zoo habitats.
Before coming to Dublin Zoo, Leo worked in a number of Dutch and Australian zoos holding, among others, the position of curator and manager of development at the Territory Wildlife Park in Darwin, Australia. He was also general curator and then director of Melbourne Zoo in Australia.
Over the years, Leo built up an extensive network of experts and innovators with ground-breaking ideas for zoo development and design, which he drew upon during his time at Dublin Zoo. Leo engaged the American firm Jones & Jones, architects and landscape architects, to create a master plan for Dublin Zoo. This new concept shifted the focus from a traditional homocentric zoo designed around the human experience, to a biocentric zoo prioritising the needs and behaviours of its animals. Leo strongly believes that a zoo must celebrate the beauty of wild animals and showcase their remarkable behaviours and physical adaptations. This, he feels, will help foster respect and care for wildlife and the environment.
Leo is, and has been throughout his career, a strong advocate for treating zoo animals as sentient beings and not as commodities, an uncommon position in many traditional zoos.
Leo lives with his partner, radio producer Colette Kinsella, as well as rescue cats Daisy and Ziggy, and a cane toad and Mediterranean tree frog.
Further information from:
« Previous