08.01.2018

NUI Chancellor Dr Maurice Manning expressed his deep sadness on the death of Dr Peter Sutherland SC yesterday, 7 January.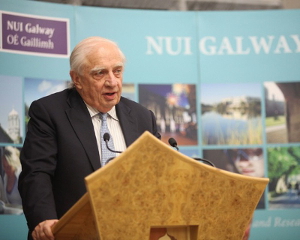 Peter Sutherland SC
Noting that had been one of the outstanding figures of his generation, the Chancellor said that Peter Sutherland had by any standards made a remarkable contribution not only to Irish public life but also in Europe and on the world stage. From early in his career, he showed his exceptional qualities, being appointed Ireland's youngest ever Attorney General in 1981 at the age of thirty-five and as the youngest ever EU Commissioner when he was appointed to that role in 1985
During his brief spell as EU Commissioner for Education, Peter Sutherland made an enduring contribution to higher education when he proposed the Erasmus student mobility scheme. Over the thirty years during which it has evolved, Erasmus has been hugely successful in enabling some nine million students to have the experience of studying abroad, to their personal and professional benefit and in providing a valuable mechanism for inter-university collaboration.
The benefits of the Erasmus experience are documented in the report recently launched by NUI The significance of International Student Mobility in Students' Strategies at Third Level in Ireland by Dr Aline Courtois.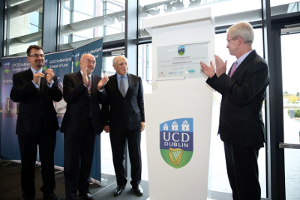 Peter Sutherland (centre) at the official opening of the UCD Sutherland School of Law with (from left), Professor Colin Scott, Ruari Quinn, former Minister for Education, and Dr Hugh Brady, former President of UCD.
Peter Sutherland's commitment to higher education may also be seen through his generosity to his alma mater UCD with the endowment in 2005 of the Sutherland Chair in European Law and his contribution to the the new School of Law building, named in his honour. He also chaired the London School of Economics for a number of years.
The Chancellor drew attention to Peter Sutherland's more recent contribution in the field of human rights and his concern for the condition for refugees and migrants, in his role as UN Special Representative for Migration.
In April 1990, when Peter Sutherland was conferred with an NUI Honorary Doctor of Laws, Dr Patrick Masterson, then President of UCD and NUI Pro-Vice Chancellor, said that Dr Sutherland had "enhanced the perception of Ireland within the European Community, and beyond in his dealings on behalf of the Community with other parts of the world." The NUI LLD was one of sixteen honorary doctorates conferred on Dr Sutherland during his lifetime.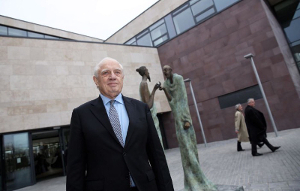 Peter Sutherland SC
On behalf of the National University of Ireland, Chancellor Dr Maurice Manning extends his deepest sympathies to the Sutherland family.
Suaimhneas síoraí dá anam uasal. Ní bheidh a leithéid arís ann.
« Previous