11.10.2018
Thursday 11th October 2018, 16:30 – Royal College of Physicians in Ireland
The National University of Ireland held its annual Honorary Conferring Ceremony on the 11th of October 2018 in the Corrigan Hall of the Royal College of Physicians in Ireland.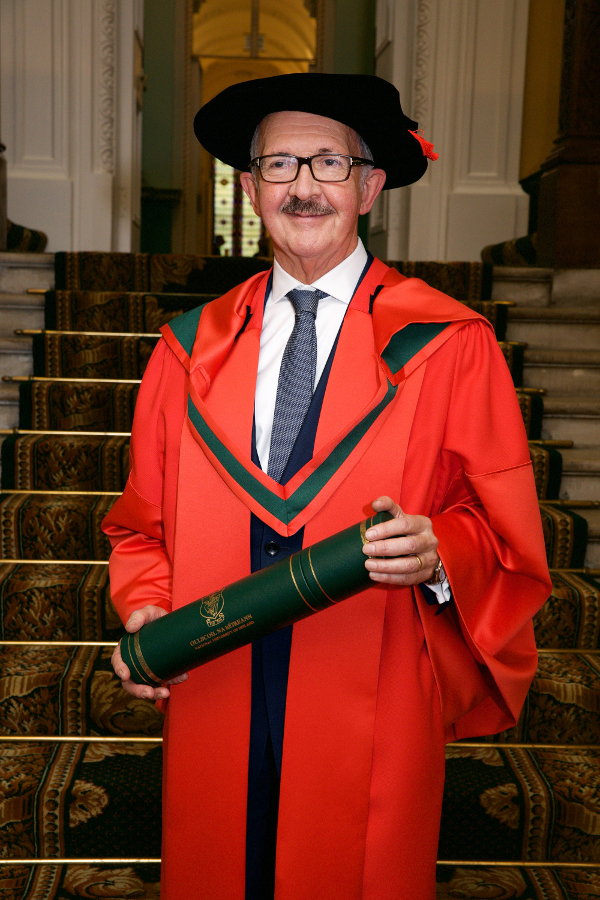 Four highly distinguished individuals were conferred with honorary degrees of the National University of Ireland at the Ceremony. The honorary graduates, all exceptional in their own fields are writer, producer & activist, Winnie M. Li; Head Coach of the Irish rugby team, Joe Scmhidt; plastic surgeon, Professor Michael Earley and Professor of English, Vera Kreilkamp.
Speaking at the ceremony in the Royal College of Physicians in Ireland, the Chancellor of NUI Dr Maurice Manning congratulated the new graduates and commended them for their remarkable achievements.
Professor Cathal Kelly, Registrar of the Royal College of Surgeons in Ireland introduced
Professor
Michael J. Earley
who was conferred with an Honorary Degree of Medicine. He referred to Professor Earley as "
a distinguished surgeon and artist", going on to say that his "career  highlights the capacity of one individual to make a difference.
" Professor Earley is currently Head of Global Standards of Operation Smile Ireland and clinical professor at UCD. Having spoken to his colleagues, Professor Kelly said that he learned how Professor Earley is
"driven by a commitment to quality of care
", seeing "
these accolades and positions, not as reasons to celebrate, but as opportunities for improvement, in training and services.
" He concluded by noting Professor Earley and his wife Finola's involvement and commitment to charities such as the Cleft Lip and Palate Association of Ireland, the Chernobyl Children's Project, The Healing Foundation (UK), The Neurofibromatosis Association of Ireland and the Christina Noble Foundation.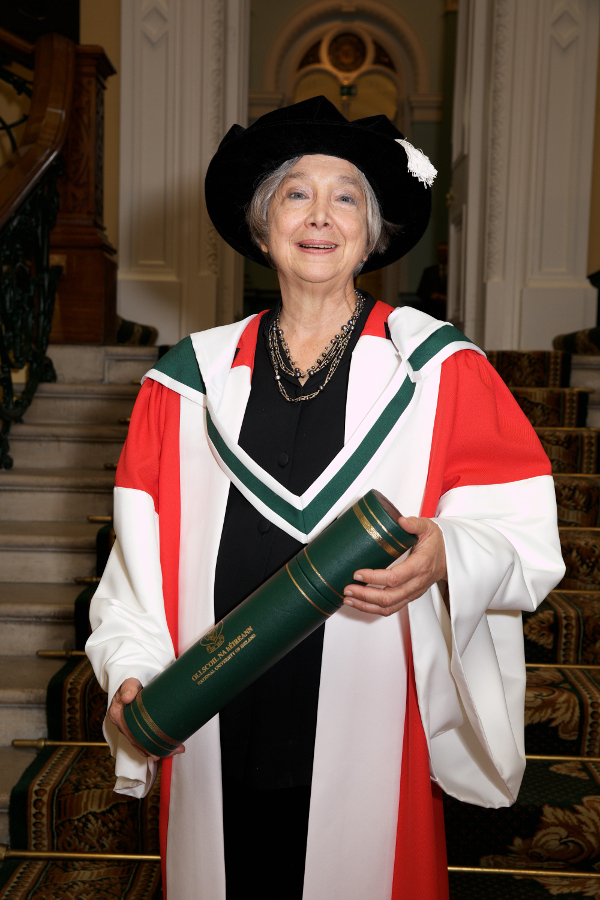 Professor of English, Vera Kreilkamp was conferred with the honorary Degree of Doctor of Literature. Speaking about Prof Kreilkamp's contribution to Irish studies and literature, Professor Margaret Kelleher, University College Dublin spoke of her "outstanding work as a scholar, curator and educator and her key role in fostering influential public initiatives relating to culture, literature and the visual arts". Commenting on her work, Prof Kelleher made reference to her co-creation of the 1996 art exhibition 'America's Eye: Irish Painting from the Collection of Brian P. Burns' which was shown in Boston College, Yale University, Washington DC and Dublin, saying that the works were "truly transformative in sharing knowledge and fostering appreciation of Irish visual culture and Irish material culture." Prof Kelleher concluded by saluting Professor Kreilkamp's "work as advocate and champion for the Irish visual and literary arts and as exemplary educator and scholar."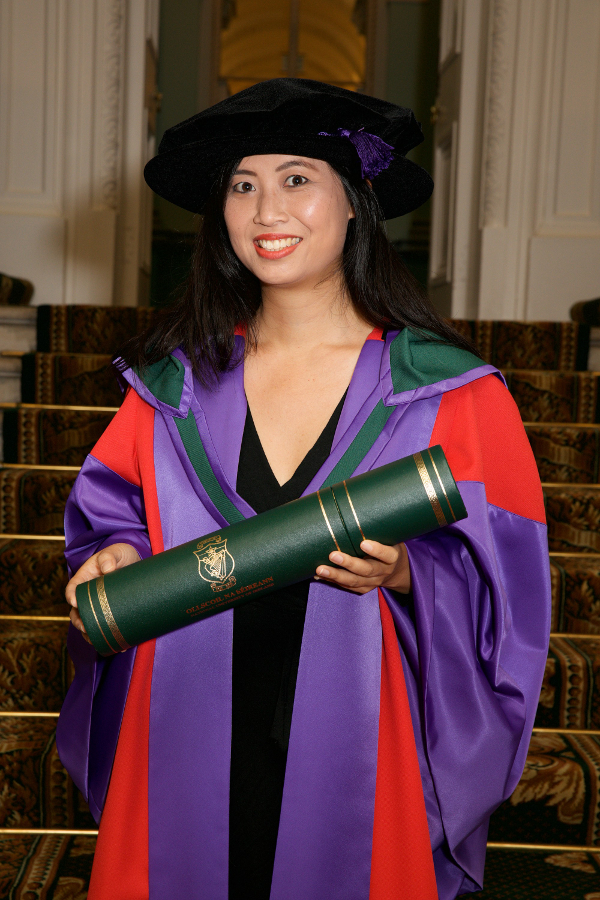 Winnie M. Li was introduced by Professor Emerita Patricia Coughlan, UCC who made reference to Li's "insistence on openness (which) gives a powerful example of courage and straight thinking about this arena of extraordinary complexity and pain." It is, she went on to say, "for Winnie Li's singular, brave, and moving work towards such enlightenment that we duly honour her today." Prof Coughlan noted the timeliness of the conferring of such an honour on Dr Li, who was conferred with an Honorary Doctor of Laws. She said that it was of particular signifigance in the context of the #MeToo movement and the "misogynist backlash we are now witnessing against women's naming and challenging of endemic sexual bullying and coercion in all its forms, and of its enabling by patriarchy."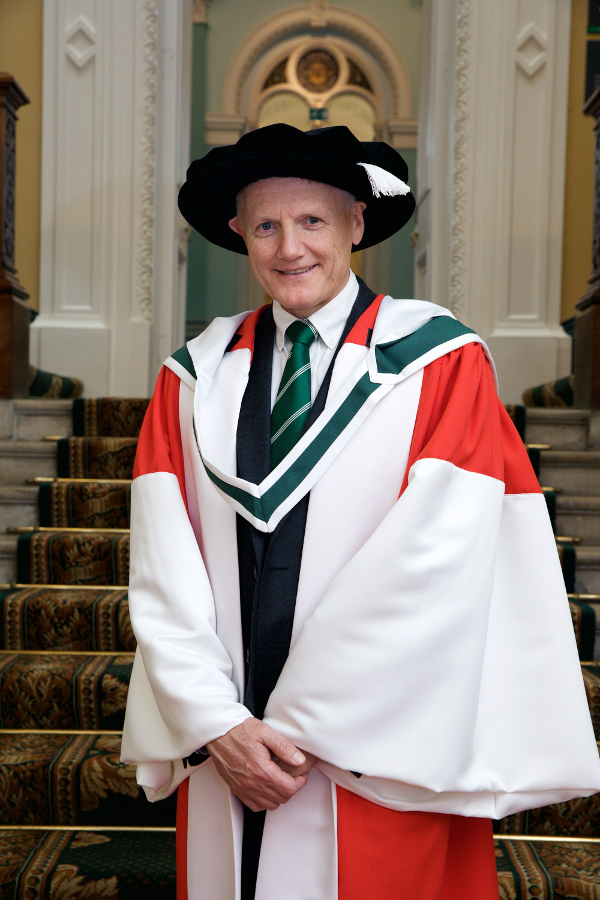 Professor Pat Guiry of University College Dublin introduced honorary Doctor of Arts recipient Joe Schmidt, commenting that he is "lauded by a number of Ireland internationals as the brightest rugby mind they have ever come across in their careers". Professor Guiry said that Schmidt is known "for analysing his opposition closely, for short, sharp training sessions, and for simple game strategies based on pressure, territory, intelligent defence with aggressive line speed, and rehearsed attacking plays." He also paid tribute to Schmidt and his family's dedication to raising public awareness of epilepsy, through work with Epilepsy Ireland. Prof Guiry concluded by telling of how Schmidt who was formerly an English teacher, quotes Aristotle to his players, saying "We are what we repeatedly do. Excellence is not an act, but a habit." Dr Schmidt was honoured at the ceremony for his contribution to Irish life through rugby.

The conferring of Honorary Doctor of Laws on writer Michael J. Conry was postponed due to illness. NUI greatly looks forward to honouring Dr Conry's contribution to Irish folklore and heritage at a later date.
Images from the Honorary Conferring Ceremony
Further information from:
Dr Attracta Halpin
Registrar
National University of Ireland
49 Merrion Square
Dublin 2, D02 V583
01 4392424 | awards@nui.ie
Twitter: @NUIMerrionSq
#NUIHonConf
Facebook: National University of Ireland