21.06.2018

College Hall, Royal College of Surgeons,
St Stephen's Green, Dublin
Thursday 21 June 2018 at 15.30
Photocall 15.10
NUI honours Jean-Claude Juncker President of the European Commission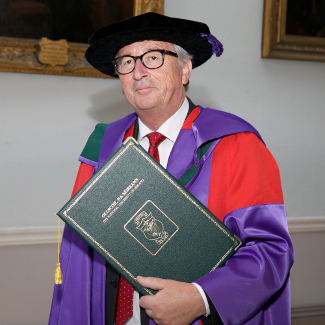 Dr Jean Claude Juncker
The Chancellor of the National University of Ireland Dr Maurice Manning today conferred the honorary degree Doctor of Laws (LLD) on Mr Jean-Claude Juncker, President of the European Commission.
Introducing President Juncker, Professor Patrick O'Shea, President of UCC assessed his career, both in political life and since becoming the 12th President of the European Commission in 2014.
Mentioning that like so many of today's leaders Jean-Claude Juncker had experienced political success early, Professor O'Shea said that "we forget that within two years of his first appointment, President Junker was Minister of Labour, then of Finance, at the age of 35, and finally Prime Minister by time he was 40".
Professor O'Shea said that as Luxembourg's Minister for Finance, though from a country much smaller than Ireland ... Jean Claude Juncker's influence was "monumental and enduring. As he chaired the meetings of Ministers of Finance of what was then the European Economic Community, he became a key voice in the run-up to the Maastricht Treaty, which created the European Union that we know today".
Highlighting Jean-Claude Juncker's influence on Europe while he was Prime Minister of Luxembourg, Professor O'Shea remarked "in short, even before he came to the European Commission, President Juncker had helped to recast just about every aspect of economic policy making in Europe".
Defining Jean-Claude Juncker's Presidency, Professor O'Shea said that that "he is renowned for a strong personal commitment to social justice. He was one of the prime movers in promoting the "social dimension" of the EU... It is in large part thanks to his persistence that last year's social summit took place in Gothenburg, and that the EU have agreed to have a further pillar of social rights".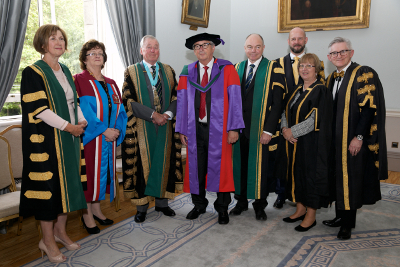 He went on to say that President Juncker "has been a strong advocate for a more open EU approach to migration... and a strong supporter of equality, diversity and inclusion with in the European Commission itself. He told the Prime Ministers that he would resign as President of the Commission if they did not nominate a sufficient number of women Commissioners - and the threat worked. He set a goal of having a minimum of 40% women at the senior level in the Commission staff by the end of his term".
On a lighter note, Professor O'Shea drew attention to the President's "wicked sense of humour and plain speaking" mentioning some recent examples "I am not the British Prime Minister. it would be better for Britain if I was but unfortunately I'm not". Similarly on President Trump's rejoicing at the Brexit vote, he said "If he continues this way, I will encourage Ohio or Texas to leave the United States".
Downloads:
Citation by Prof Patrick O'Shea, President University College Cork.
Address Given by Dr Jean-Claude Juncker.


Introductory Text Delivered by Prof Patrick O'Shea (53 kb)

Address Given by Dr Jean-Claude Juncker (47 kb)

To download this pdf to your computer right click the link above and save
Further information contact:
Dr Attracta Halpin
Registrar
National University of Ireland
49 Merrion Square
Dublin 2 D02 V583
E-mail: registrar@nui.ie
T: 353 (0)1 4392424
Twitter: @NUIMerrionSq
Facebook: National University of Ireland