15.03.2017


Duaiseanna an Dr T K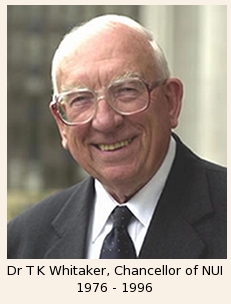 Whitaker sa Ghaeilge to á sheoladh i rith during Seachtain na Gaeilge 2017
As part of the NUI Awards competitions, Duaiseanna an Dr T K Whitaker sa Ghaeilge will be awarded for the first time in 2017 in honour of the former Chancellor of NUI, Dr T K Whitaker, in recognition of his love of the Irish language and the work he undertook in its behalf during his life. Two prizes, valued at €2,000 and €1,000 respectively, will be offered to students undertaking a masters degree programme in Irish as part of this competition. These are the first prizes of their kind to be offered by NUI to masters degree students. Course co-ordinators of masters degree programmes in Irish in NUI constituent universities will be invited to nominate their top students for these awards.
Dr T K Whitaker was born in the year of the 1916 Easter Rising and was Chancellor of NUI for 20 years from 1976-1996. NUI celebrated the centenary of his birth in December of 2016. Dr T K Whitaker died shortly afterwards in January 2017.
Course co-ordinators of masters degree programmes in Irish in the NUI constituent universities will be contacted in April regarding nominations for these awards.
Further information can be found at #NUIAwards17 on Twitter or at
http://www.nui.ie/awards/graduate_scholarships_and_prizes.asp#Duaiseanna

Irish language discussed in NUI archival letters
Amongst these images can be seen letters from the NUI Archives sent to the University in relation to the translation of official terms of the University. There is a letter from Douglas Hyde, mention of Professor Úna Ní Fhaircheallaigh (Agnes O'Farrelly) and of translation meetings involving the coming together of notable Irish language professors. The results of these meetings can be seen in the minutes of the NUI Senate meetings of the time here also.