25.11.2016
To mark Explore Your Archive Week, a letter from the NUI Archives written by Jack B. Yeats accepting the offer of an honorary degree. The National University of Ireland awarded Yeats a DLitt in 1947.
The annual NUI Honorary Degree Conferring Ceremony takes place on December 1st 2016.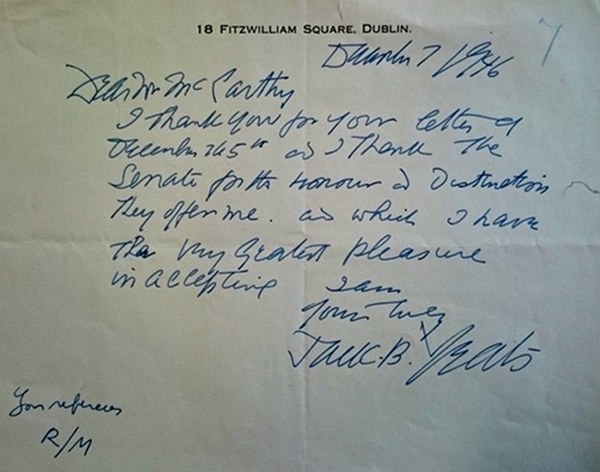 Jack (John) Butler Yeats (1871-1957) was one of the foremost Irish artists of the Twentieth Century. The poet William Butler Yeats was his brother. In 1924, Jack B. Yeats won a silver medal for painting at the Olympic Games in Paris.

NUI houses the archive of the University and the archive of the Royal University of Ireland.
Explore Your Archive is a joint campaign delivered by The National Archives and the Archives and Records Association across the UK and Ireland. It aims to showcase the unique potential of archives to excite people, bring communities together, and tell amazing stories (www. exploreyourarchive.org).