25.02.2010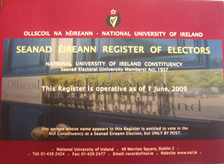 In accordance with the provisions of the Seanad Electoral (University Members) Act 1937, as amended, the Seanad Éireann Register is revised annually, for publication on 1 June of every year. NUI graduates (other than honorary graduates) may claim to be registered.

The closing date for registration in any given year is 26 February.
Download Registration Claim Form

Irish Version (95kb)
:
English Version (98kb)
Updated information is essential to the accuracy of all graduate records. Changes of address or notification of the death of a graduate should be submitted in writing, either to the NUI Office, by email records@nui.ie or by downloading a Register Update Form (Irish Version, English Version (pdf format).
Full information on NUI elections.