BRYAN G. ALTON 1965 – 1973
Physician at the Mater Hospital. Lectured in medicine in UCD, of which he was a graduate. Spent two fellowships in the US. Made an outstanding contribution to Irish medical education, the development of the Mater Hospital and a number of other hospitals. See entry in RIA Dictionary of Irish Biography
HENRY L. BARNIVILLE 1938 – 1961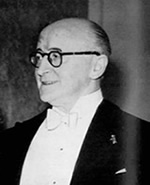 Educated at the Catholic University Medical School, Cecilia Street, he was awarded an NUI travelling studentship in 1912 and undertook postgraduate studies in Germany. Professor of Surgery at UCD, he was a surgeon at the Mater Hospital, the National Maternity Hospital and a number of other hospitals. See entry in RIA Dictionary of Irish Biography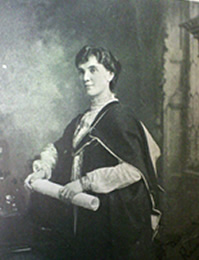 HELENA CONCANNON 1938 -1954
Author, historian, language scholar, Helena Concannon studied at the Sorbonne before coming back to Ireland. Appointed professor at the then University College Galway (now NUI Galway), she was a prolific writer on Irish history, particularly the history of irish women. She was a TD from 1933-1937. See entry in RIA Dictionary of Irish Biography
*JOHN CROWN, 2011 –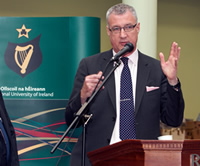 Professor at UCD and consultant medical oncologist at St. Vincent's University Hospital, John Crown received his medical training at University College Dublin and the State University of New York, and undertook his postdoctoral training on both sides of the Atlantic. He completed his fellowship training in oncology at Mount Sinai Medical Centre and in haematology/oncology at Memorial Sloan Kettering Cancer Centre before joining St. Vincent's University Hospital in 1993.
John founded the Clinical Trials Unit at St. Vincent's University Hospital which has developed an international leadership role in oncology trials.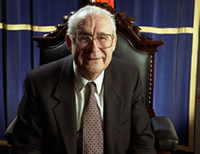 JAMES C. I. DOOGE, 1982 – 1983
James C. Dooge was a professor of engineering first in UCC, later in UCD. He had a distinguished academic career, gaining an international reputation in the field of hydrology. As Senator, he was appointed Minister for Foreign Affairs by Dr Garret Fitzgerald in 1981. His work in Europe through the Dooge Committee led to the Single Europe Act and the Treaty of Maastricht.

MICHAEL D. HIGGINS, 1983 – 1987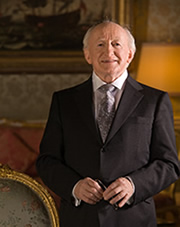 On 11 November 2011, Michael D. Higgins was inaugurated as the ninth President of Ireland. He studied at the University College Galway, the University of Manchester, and the University of Indiana. As a lecturer in political science and sociology in National University of Ireland, Galway, and in the United States, Michael D. Higgins was a passionate proponent for the extension of access to third level education beyond the walls of established universities. He served as a public representative at many levels from Councillor and Mayor to 9 years in the Seanad and 25 in Dáil Éireann. As Ireland's first Minister for the Arts in 1993-97, Michael D. Higgins's achievements include the reinvigoration of the Irish film industry, the establishment of Teilifís na Gaeilge, now TG4, and the repeal of censorship under Section 31 of the Broadcasting Acts. In 1992, Michael D. Higgins was the first recipient of the Seán MacBride Peace Prize from the International Peace Bureau in Helsinki, in recognition of his work for peace and justice in many parts of the world. Michael D. Higgins is also a writer and poet.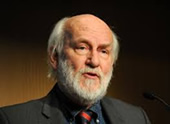 JOHN S. HORGAN, BA 1969 – 1977
John Horgan is the Press Ombudsman. Formerly, Professor of Communications in DCU, and previously a journalist, he was a Labour Party TD from 1977 to 1981.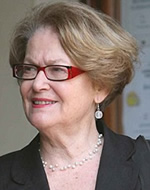 GEMMA HUSSEY, BA 1977 - 1982
A graduate of UCD, Gemma Hussey ran a successful language school in Dublin before entering politics. Having served as a member of Seanad Éireann, she was elected to the Dáil for Fine Gael in 1982. She was Minister for Education from 1982 – 1986 and Minister for Social Welfare 1986-87.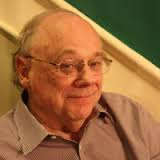 JOHN JOSEPH LEE, BA, MA 1993 – 1997
Professor of Modern History at UCC from 1974 – 2002, Professor Joe Lee is currently Professor of History and Glucksman Professor for Irish Studies and Director of Glucksman Ireland House, at New York University.
ROGER J. MCHUGH, MA, PhD 1954 – 1957
Roger McHugh was first Professor of Anglo-Irish Literature and Drama in UCD. He pioneered critical interest in Irish writers. In politics a republican, he supported IRA volunteers in British jails. See also entry in RIA Dictionary of Irish Biography.
GEORGE A. T. O'BRIEN, BA, DLitt 1948 – 1965
Regarded as the leading economist of his time, George O'Brien was Professor of Economics, UCD. A Keynesian, he brought John Maynard Keynes to Dublin. See also entry in RIA Dictionary of Irish Biography
DÓNALL Ó CONALLÁIN, BA, HDip in Ed 1961 –1969
Secondary teacher who was President of the Association of Secondary Teachers of Ireland in 1951.

T. AUGUSTINE MARTIN, MA, PhD 1973 – 1981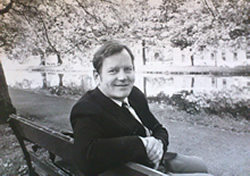 A graduate of UCD, Gus Martin was a secondary teacher before being appointed to the English Department in UCD where he was appointed Professor of Anglo-Irish Literature and Drama in 1979.Through his text books Exploring English (1-3) and Soundings, he had a major influence on the teaching of English in second-level schools. The re-publication of Soundings in 2010 was a great publishing success. He was Chairman of the Yeats International Summer School from 1978 to 1981 and in 1985 was appointed Chairman of the Board of the Abbey Theatre. See also entry in RIA Dictionary of Irish Biography.

*RÓNÁN MULLEN, BA 2007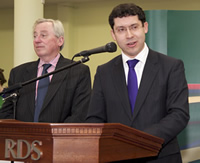 A graduate on Law of NUI Galway, Rónán Mullen was President of the university's Students Union. An independent member of Seanad Éireann since 2007, and a qualified barrister, he lectures in Law and Communication at the Institute of Technology, Blanchardstown.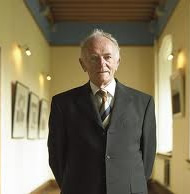 JOHN A. MURPHY, MA, PhD 1977 – 1993
Emeritus Professor of History at UCC, John A. Murphy is an Irish historian. An independent member of Seanad Éireann, he was Professor of Irish History at UCC from 1971 until he retired in 1990. He was a regular columnist for many years. In 1960 he became an assistant lecturer at UCC, and was appointed Professor of Irish History in 1971, holding that chair until his early retirement in 1990. His 1975 book Ireland in the twentieth century was one of the first surveys of contemporary Irish history.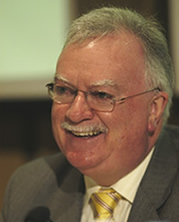 JOSEPH J. (JOE) O'TOOLE, BA, HDip in Ed 1987 – 2011
Joe O'Toole was an independent member of Seanad Éireann from 1987 to 2011.He was a national teacher and school principal before being appointed General Secretary of the Irish National Teachers Organisation (INTO) in 1990, serving in that position until 2001. He 2001–2003, he was President of the Irish Congress of Trade Unions from 2001 – 2003.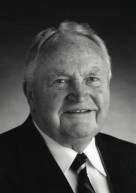 PATRICK M. QUINLAN 1957 - 1977
A graduate in Engineering from UCC, Patrick Quinlan spent his NUI Travelling Studentship in California Institute of Technology (Caltech) in California where he completed his PhD in mathematical physics. Returning to Ireland to take up a post in UCC, he maintained a strong connection with Caltech to the benefit of the Irish students who followed him there and to the study of mathematical physics in Ireland. See also entry in RIA Dictionary of Irish Biography .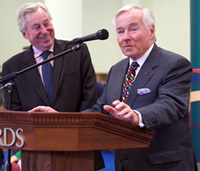 *FEARGAL QUINN, BComm 1993 –
A graduate of UCD, Superquinn founder Feargal Quinn has made many contributions to Irish public life. He was chairman of An Post for ten years. He chaired the steering committee that was responsible for the introduction of the Leaving Cert Applied.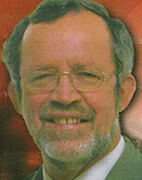 LIAM B. (BRENDAN) RYAN, BE 1981 – 1993 1997 – 2007
Brendan Ryan was an independent Senator until 1999, when he joined the Labour Party. He had a long involvement with the Simon Community and worked as a lecturer in Chemical Engineering at Cork Institute of Technology.
MICHAEL J. RYAN, BA, BSc, LLB, BE, SC 1944 – 1948
Professor of Law at UCD and a Senior Counsel.
MICHAEL TIERNEY, MA 1938 – 1948
Michael Tierney was a brilliant classical scholar who having studied in Europe on an NUI Travelling Studentship was appointed Professor of Greek in UCD before he was thirty. He was a TD for a number of years before serving in the Senate. Appointed President of UCD in 1947, he is most closely identified with the move of the college to Belfield.
See also entry in RIA Dictionary of Irish Biography.
* Member of 24th Seanad elected 2011