Inaugural Dr Garret FitzGerald Memorial Lecture 2011 Garret FitzGerald and the Quest for a New Ireland
by Ronan Fanning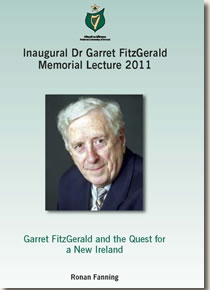 As a memorial to its former Chancellor, NUI has established the Dr GarretFitzGerald Lectures which will be an annual lecture series by distinguished speakers on topics of national or international importance. In the inaugural lecture Garret FitzGerald and the Quest for a New Ireland, Professor Ronan Fanning focused on Garret himself and seeks to present a critical evaluation of his contribution to public life.

Price €10



Download


order form
(149kb)
The Role of the University at a time of Intellectual Crisis
President Michael D. Higgins

At a ceremony in St Patrick's Hall, Dublin Castle on Wednesday, 25 January, the Chancellor of the National University of Ireland, Dr Maurice Manning conferred the honorary degree of Doctor of Laws (LLD) on the President of Ireland, His Excellency, Michael D. Higgins.
Following the conferring, the President addressed the gathering. The large attendance in St Patrick's Hall included representatives of the Government, the Council of State, the judiciary, the diplomatic corps, in addition to members of the four NUI constituent universities and other Irish universities. Notable amongst the attendants were many former colleagues of the President from NUI Galway where he lectured in the Department of Sociology for over thirty years.  National cultural institutions and the media were also represented
Copies also available from NUI 49 Merrion Square Dublin 2
Download President's Address


President's address at the ceremony
(363kb)