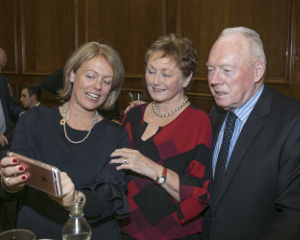 2017 Dr H H Stewart Literary Scholarship recipients with UCD academics: Denise Griffin (Scholarship Latin), Dr Derval Conroy (French, UCD), Dr Martin Brady (Latin, UCD),Dr Ursula Fanning (Italian, UCD), Clíona Nic Lochlainn (Scholarship in Italian and Commendation Prize in French), Áine Burns (Prize in German).
The O'Brien Bequest Awards
This bequest is used to support the following schemes:

The NUI Award Scheme for Students with Disabilities
This Scheme has provided support for undergraduate students who have serious physical disabilities and who propose to pursue primary degree programmes (i.e. Honours Bachelor Degree programme) in an NUI constituent university, recognised college or college linked with a constituent university.
To be eligible to apply for a bursary award, candidates must be new entrant undergraduate students.
The competition will reopen for this award in November/December 2018.
Please check our website for details at that time.
Contact awards@nui.ie for more information.
The NUI Equal Educational Opportunities Scheme
NUI is committed to promoting greater social equity in Irish higher education through securing increased participation in the constituent universities by economically disadvantaged students. To provide further support, the Senate funds an NUI Equal Educational Opportunities Scheme to support students in economically disadvantaged circumstances.

This scheme is administered directly in the constituent universities and recommendations relating to the allocation of funding are made to Senate by the President in each constituent university.